---
Our Services | RC Wood Stuff of Nampa, Idaho

Our Services

RC Wood Stuff is proud to offer custom wood products for many uses. Whether needing furniture for your living room, or custom wooden shutters for your windows, Ray can custom craft it for you.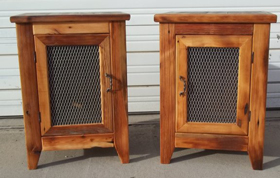 We proudly offer a wide variety of services and products listed below:
• Custom Wooden Tables
• Chairs
• Armoires
• Cabinets
• Coolers
• Beds

• Entertainment Centers
• Saddle Stands
• Wagons
• Misc. Items
• Contact Us For a Custom Quote

Shipping Information

On all furniture, shipping costs will be established when you order. On large pieces these have to go by freight truck and shipping can run from 18%
to 30%, many variables here. We do not recommend shipping freight items to a residential address as most Freighters add $50.00 to $100.00 surcharge,
if you do not have a commercial address we can arrange for you to pick up the freight at the dock. We will not ship your order until you approve any unknown freight charges. 

• Shipping within the U.S. only.
If you need any items not listed above created, fill out our quote form and Ray will get in touch with you in regards to completing your request.

View our photo gallery of products for sale, sold, and custom created by Ray Church. Contact us for any questions you have about our services.